Electric Chain Hoists
At a glance
In single or double fall design.
SWL up to 2 alt. 4 t.
Hook path up to 32 / 16 m.
Extensive additional equipment available.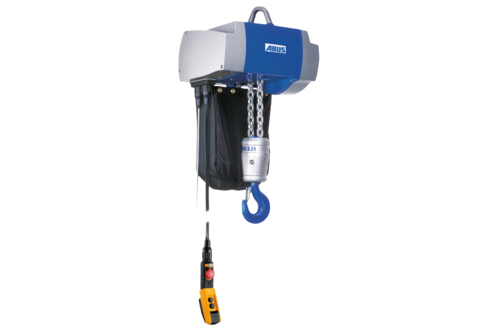 Interested in this product? Then request now for an offer!
The ABUCompact GM8 is available with 1 or 2 falls. The GM8 lifts loads of up to 2 t / 4 t. The hooks paths reach lengths of up to 32 m / 16 m. Different lifting speeds are available depending on the load capacity. The ABUCompact GM8 features a 48V electronic control as standard.
The comprehensive range of additional equipment offers various options to customise the functions of the ABUCompact GM8 – from hoist limit switch to radio remote control. 
By using the hinged suspension bracket it is easy to fix the ABUCompact GM8 in position or to use it in conjunction with a push-pull or electrically powered trolley.