HB-systems
Double girder crane ZHB-I
At a glance
High load capacity.
Particularly favourable lifting height thanks to the chain hoist being placed between the crane girders.
Crane track consisting of standard rolled-section girders.
Optional electric hoist travel.
Optional mobile control.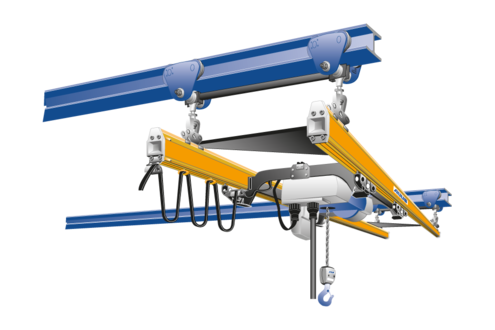 Interested in this product? Then request now for an offer!
DOUBLE GIRDER CRANE ZHB-I
The Mul Hahar double girder crane ZHB-I is our answer for heavy loads combined with area-coverage material transport. The ZHB-I is also characterised by long crane girder lengths. The crane travels directly on crane tracks consisting of rolled-section girders. The Mul Hahar chain hoist is also suspended between the crane girders making for an optimised lifting height.
Electric travel for cranes and electric chain hoists is available depending on requirements and applications. A mobile control allows the position of the operative to be independent of the location of the chain hoist.