Electric Chain Hoists
At a glance
Compact electric chain hoist for loads of 60 to 10,000 kg.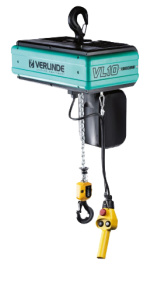 Interested in this product? Then request now for an offer!
The EUROCHAIN VL is the answer to your small and medium capacity hoisting needs.

The EUROCHAIN VL is a new line of leading-edge technology hoisting gear that is the forerunner to the hoist of the XXIst century, perfectly suited to match your industrial environment.

In addition, so as to provide the best possible solution for your hoisting and handling needs, the EUROCHAIN VL is the ideal companion for manual and electrical travel trolleys installed on monorail beams, jib cranes, overhead handling systems or overhead travelling cranes.