Jib Cranes
At a glance
SWL up to 1 t.
Jib length up to 7 m.
Slewing range 270°.
With MUL HAHAR electric chain hoist.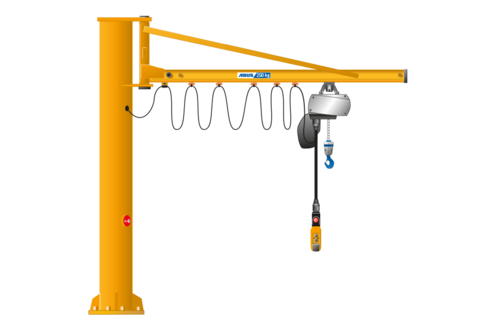 Interested in this product? Then request now for an offer!
The pillar jib crane PS has been designed for freestanding installation on the building floor. This workstation crane provides a slew range of 270° with jib arm lengths of up to 7 m and Safe Working Loads (SWL) of up to 1.0 t. Slewing stops allow you to adapt the slewing range to your individual needs.
The pillar jib crane LS is typically used to support lifting tasks that are mostly in the lower capacity range. Loads can be quickly and safely raised and can be transferred effortlessly and precisely thanks to the smooth-running jib arm.
The crane is mounted by means of a round dowel plate with special floor dowels conforming to the permissible dynamic loads. It is also possible to use anchor rods to fix the cranes to foundations or to use intermediate plates with ground anchors.