Jib Cranes
At a glance
SWL up to 6.3 t.
Jib length up to 10 m.
Slewing range n x 360°.
Up to 4 t with MUL HAHAR electric chain hoist.
Up to 6.3 t with MUL HAHAR electric wire rope hoist.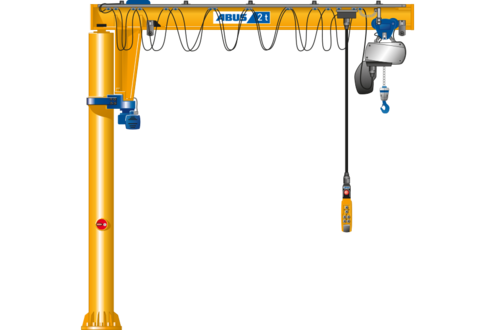 Interested in this product? Then request now for an offer!
The pillar jib crane M has been designed for freestanding installation on the building floor. This workstation crane provides a slew range of 360° with jib arm lengths of up to 10 m and Safe Working Loads (SWL) of up to 6.3 t. The low-built design allows high hook positions for optimal use of the available building space. In addition to the comprehensive standard design, this crane may adapted individually by making use of useful additions such as electric slewing, electric hoist travelling or mobile control.