Electric Chain Hoists
At a glance
Electric winch for loads of 600 to 7,500 kg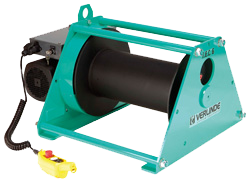 Interested in this product? Then request now for an offer!
The ideal solution for traction and hoisting loads of up to 7,5 tons.

This line of electric winches will perfectly match your needs.

Furthermore, its design displays qualities of discretion, since it is highly compact, and calls for very little maintenance. TEC electric winches comply with the EC directive concerning machines.