Jib Cranes
At a glance
SWL up to 1 t.
Jib length up to 7 m.
Slewing range 180°.
With MUL HAHAR electric chain hoist.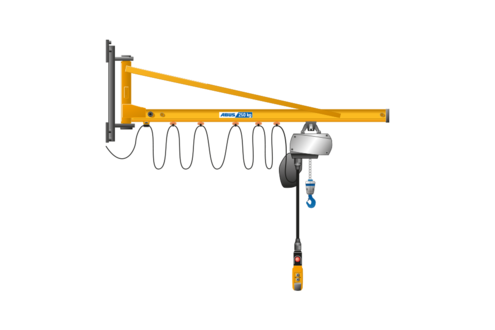 Interested in this product? Then request now for an offer!
The wall jib crane PW has been designed to be mounted on a wall or column. This workstation crane provides a slew range of 180° with jib arm lengths of up to 7 m and Safe Working Loads (SWL) of up to 1.0 t.
The wall jib crane LW is an unobtrusive and reliable aid when it comes to moving lighter loads by hand. Its lightweight design allows it and its load to be guided quickly and precisely even at longer jib lengths. This is an effective aid to daily operation.
The wall bracket included in the delivery is used to mount the crane on a steel support within a wall for example. Other mounting solutions are available for different building arrangements.