Jib Cranes
At a glance
SWL up to 0.5 t.
Jib length up to 7 m.
Slewing range 180°.
With MUL HAHAR electric chain hoist.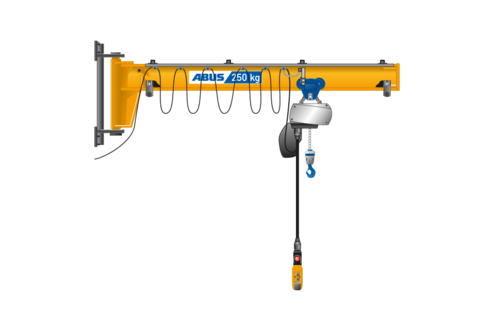 Interested in this product? Then request now for an offer!
The wall jib crane AW has been designed to be mounted on a wall or column. This workstation crane provides a slew range of 180° with jib arm lengths of up to 7 m and Safe Working Loads (SWL) of up to 0.5 t.
Low ceilings and lack of floor space are typical criteria for selecting the LWX wall jib crane. Its low-build headroom dimensions offer a favourable lift height. In addition to the comprehensive standard features, this crane may adapted individually by making use of useful additions such as electric hoist travelling or radio remote control ABURemote.
The wall bracket included in the delivery is used to mount the crane on a steel support within a wall for example. Other mounting solutions are available for different building arrangements.