Manual winches and hoists
At a glance
Manual winch for
loads of 150 to 300 kg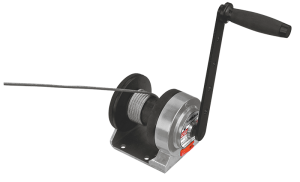 Interested in this product? Then request now for an offer!
A new generation, compact winch taking advantage of the qualities of composite materials and aluminium,
especially their anti-corrosion properties.

Easy to wind. Planetary reducer in a sealed casing.

Clutchable, vacuum drum, associated with a failsafe system in the rope wind direction (patented).

Automatic brake.

With stainless steel spring and pawls.

Removable crank.
Ergonomically and comfortably shaped crank grip.

Large rope release range (more than 250°).

High force/compact and density ratio.