Wire rope hoists
Type D – standard crab unit
At a glance
SWL range 1 – 63 t.
Articulated end carriage joints.
No hook wander or rotation with true vertical lift units.
Maintenance platform as an option.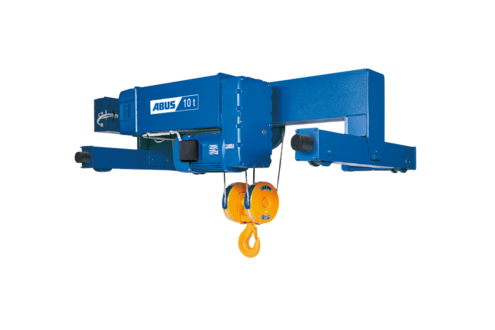 Interested in this product? Then request now for an offer!
TYPE D – STANDARD CRAB UNIT
The double rail trolley type D is our compact standard crab unit for the medium SWL applications between 1 t and 63 t. This design is characterised by articulated end carriage joints that ensure positive contact of all four wheels with the track. The hoist trolley of this crab unit features two direct drive cross travel motors. Some D type hoists can be used for so-called true vertical lift applications as hook 'wander' (movement along the barrel) and rotation are absent. This is a major advantage for crane users in case of applications that require lifting of guided loads or turning loads with two hoists. In addition, maintenance platforms can be fitted to this crab unit making for easier and safer service and maintenance —with walkable platforms being an option also. Should the available clearance above the crab unit be restricted, a stooled-down version ( type DA ) is available upon request.