Wire rope hoists
Type S – side-mounted hoist
At a glance
SWL range 1 t – 10 t.
Hook positioned beside the crane girder.
Optimised highest hook position.
Allows building heights to be reduced.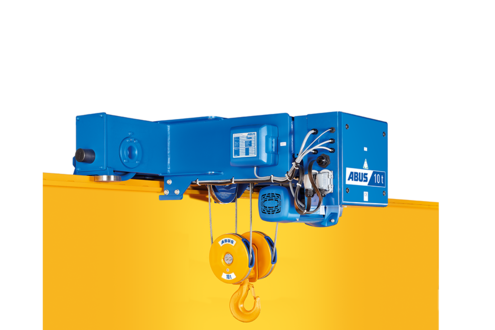 Interested in this product? Then request now for an offer!
TYPE S – SIDE-MOUNTED HOIST
The side-mounted hoist type S is characterised by the hook being positioned beside the crane girder. Thus an optimised highest hook position is achieved in the SWL range of 1 t to 10 t. The optimised hook position is not only an advantage in existing buildings. When designing new factory buildings the side-mounted hoist type S can be employed to reduce the total investment costs: it is possible, for example, to design cranes with spans of up to 35 metres or more as single girder cranes. Compared with a single-girder crane using a monorail hoist type E the building height can be reduced which will result in a lower cost volume. Compared with a double-girder crane of about the same height, the loads on the crane track and the building are significantly lower which is often another cost advantage.