Wire rope hoists
Type U – monorail hoist with twin trolleys
At a glance
SWL range 6.3 t – 25 t.
Cross travel trolley with direct drive.
No exposed reduction gearing.
Load is distributed over 8 wheels.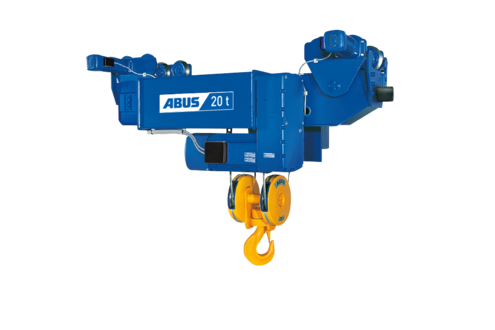 Interested in this product? Then request now for an offer!
TYPE U – MONORAIL HOIST WITH TWIN TROLLEYS
The monorail hoist with twin trolleys type U is used for high load capacities and long hook paths. The SWL range extends between 6.3 t and 25 t. The cross travel trolleys feature direct drives without exposed reduction gearing. This lower flange trolley is fitted with 8 wheels for better load distribution. Thus ordinary rolled section beams can be used for monorail track applications. Cranes with higher load capacities yet smaller spans can be designed as single-girder cranes when using the hoist type S. Advantages as to the total investment can be achieved in comparison to the double-girder crane.