Wire rope hoists
Type Z – twin barrel crab unit
At a glance
SWL range 8 t – 120 t.
Compact design.
Articulated end carriage joints.
Two direct drive cross travel motors.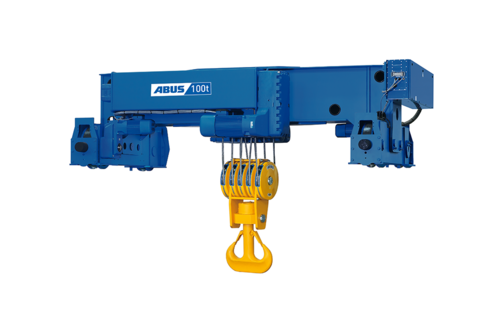 Interested in this product? Then request now for an offer!
TYPE Z – TWIN BARREL CRAB UNIT
The twin barrel crab unit type Z is our standard wire rope hoist for heavy duty transport applications. The Safe Working Load range for type Z is between 8 t and 120 t. The articulated end carriage joints ensure positive contact of all four wheels with the track. The hoist trolley of this twin barrel crab unit features two direct drive cross travel motors. These come as epicyclic or flat geared motors depending on the diameter of the wheels. In addition, maintenance platforms can be fitted to this crab unit making for easier and safer service and maintenance  – with walkable platforms being an option also. Should the available clearance above the crab unit be restricted, a stooled-down version (type ZA) is available upon request, a design characterised by ultra-low headroom that adapts to the building contours in an optimal way.